Length Behind Tool
The Length Behind Tool is only available to Pro users.
The LBH Tool provides the user a means to compare horses from different races. For example, compare horses that have not run in the same race.
For this tool to make sense it only compares races:
over the same distance
run on the same venue
and run on the same day
The LBH Tool can be accessed in two ways:
From the top menu

Accessed this way, the user must select the race information (date, venue distance, etc.)

From the green menu on a Result

Accessed this way, the system bases the selection on that Result. This will normally be the preferred way to view the LBH Tool.

Limitations
This tool, while very powerful, has some limitations:
The LBH Tool cannot work if for some reason the timings were omitted when the race was recorded. This can and does happen on occassion and is no fault of

Formgrids

. When this happens, a warning message is displayed.
Often enough there is only one race over this distance at a race meeting. The LBH Tool will show the race but there is little value in such a display.
The LBH Viewer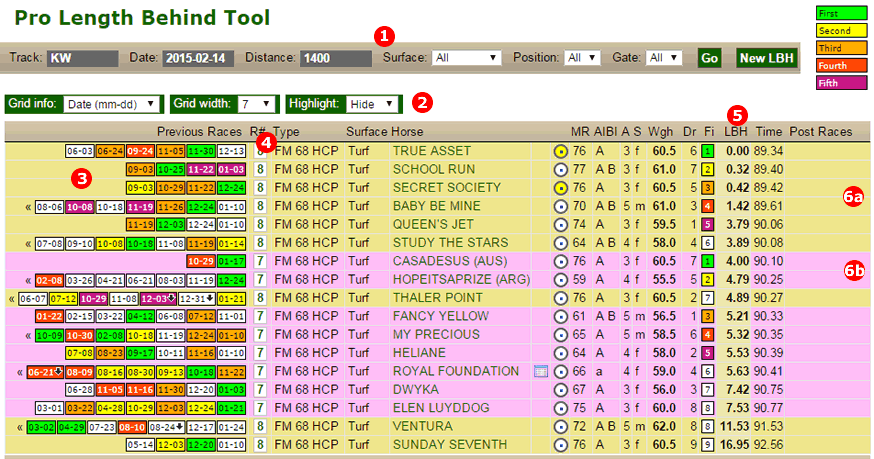 1

The LBH Tool Bar: The user may set a few simple options to change the output. Here are a few tips:

Surface: Restrict the display to only a particular surface, e.g. Polytrack.
Position: Select to show only a particular position, e.g. "1" for "First".
Gate: Select to show only a particular gate, e.g. "2" for "Gate 2".
Go button: After making any change click this button to recreate the report.
New LBH" button: Click to reset and open "Track", "Date" and "Distance" selections. In other words: start a new report.

2

The Green Menu Set the Grid options. Similar to the way it is done in the Results and the "Racecards".

3

The Grids: The grids display. Similar to the way it is done in the Results and the "Racecards".

4

The Race Number: Abbreviated as "R#" this column identifies the race by it's number. Each number is also a link to the actual race result.

5

The LBH: This is the calculated Length Behind using the fastest horse as the base. This column is the essence of the LBH tool.

6a

Each race is colour coded as a background colour. This makes it easy to identify what horses were in each race. In this example race 7 and race 8 are shown. Race 8 is a yellowish colour and race 7 has a background colour of light purple.

6b

This is just to show that race 7 is a different background colour to race 8. See above for more information.
| | |
| --- | --- |
| Created: 2015-02-19 | Revised: ~ |